NDIA San Diego presents the 25th Navy Gold Coast Small Business Procurement Event of 2013
NDIA San Diego presents the 25th Navy Gold Coast
Small Business Procurement Event of 2013
August 26-28, 2013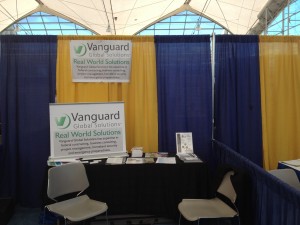 Navy Gold Coast 2013 was presented by the San Diego chapter of the National Defense Industrial Association (NDIA) last week at the San Diego convention center. The event celebrated its 25th anniversary this year and provides insightful guidance on a variety of Small Business issues. There were training segments with local DoD commands, matchmaking with both large DoD prime contractors and government agencies, lots of networking opportunities, and some basic seminars on how to effectively market to the federal government and the basic rules for government contracting.
The local NDIA chapters Navy Gold Coast committee organized this event which is known as the largest small business conference on the west coast. They arranged for a host of speakers to present topics of interest, relating to government contracting and more specifically the United States Navy. Mike Sabellico of Vanguard Global Solutions and a consultant for the Orange County Small Business Development Center presented a session on "The Business of Business Relationships" and Vanguard Global Solutions was one of 30 small business sponsors for the third year in a row!
Please check out the Navy Gold Coast website www.navygoldcoast.org and the events Facebook Page and follow them for future information and registration for the San Diego Navy Gold Coast Event 2014.
Other sponsors of this event: Northrup Grumman, BAE Systems, Deltek, Lockheed Martin, Bank of America, American Systems, Boeing, D&B Credibility, Georgia Tech Research Institute, HP, Parsons, Raytheon, SAIC, and Serco.