Emergency Management Equipment
For more information or a quote please contact Vanguard Global Solutions.
Vanguard Global Solutions is an authorized distributor for Viking Firefighting Gear: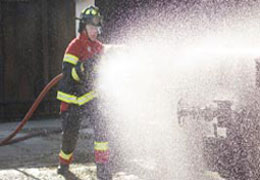 American Classic
Coat PS1110 / Pants PS1150 – NFPA Approved 1971, 2003
Classic Design with Visible Improvements
Material:  Available in several material combinations, here shown as a combination made of Dupont™ Nomex® with thermal liner of TenCate Aralite®.
Coat
•High insulated collar.
•A low placement of the Drag Rescue Device (DRD) for better leverage.
•Reglan sleeve design.
•Microphone clip.
•Convertible Radio pocket that can be used with or without a flap.
•Extra wide storm flap 5"
•Standard option of the quick release zipper or upgrade to the hook and dees option
•Reinforced elbows.
•Inspection ports at bottom of coat for easy inspection and repair.
Pants
•Easy access inspection port.
•Take up straps for easy waste adjustment.
•Heavy duty pockets with straps for easy access when wearing gloves.
•Hook & loop horizontal and vertical (if pocket is full, it will still close).
•Shoulder straps for a comfortable fit (upgrade).
•Reinforced knee area.
•Reverse boot cut.
Viking Standard
Coat PS1126/ Pants PS1160 – NFPA 1971, 2013 Approved
European Style – Lightweight, Flexible and Loaded with Special Features
Coat
•Lower placement for DRD providing better leverage.
•Full cargo/ hand-warmer pockets, convertible radio pocket, slash pocket of CROSSTECH® for easy access to medical glove storage
•Reinforced elbows with a double layer of outer fabric
•Reinforced sleeve cuffs.
•Water well system of CROSSTECH® in wrist and tube knitting wristlets of DuPont™ Nomex®
•Torso thermal liner extended to top of neck collar for better protection against liquid penetration
•MIC loops, ID-Card hanger/personal alert safety system (PASS) alarm.
•Flashlight holder.
•Zipper velcro front closure.
•Detachable liner and moisture barrier.
•Inspection Ports.
Pants
•Full bellows reinforced cargo pockets.
•Zipper Velcro front closure.
•Elastic intake at waist and webbing take up straps made by DuPont™ Nomex®.
•Can use with a 2" Kevlar Belt.
•Adjustable suspender and low profile suspender attachment points.
•Reinforcements in the crotch area.
•Pre-bent reinforced knees made with Arashield™ Dupont Kevlar®.
•Double layer of outer fabric on cuff.
•Red Suspenders Standard.
•Padded H-Back available for comfort and durability.
•Low profile suspender attachment points.